National Association for the Education of Young Children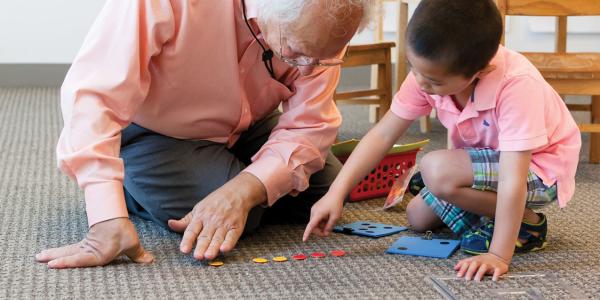 The National Association for The Education of Young Children (2018). The specific sections that I found on the NAECY website was a resource tab with encompassed a lot of invaluable information to improve teaching methods, skills, knowledge and pedagogy.  The resource tab houses a link for professional development.  The professional development tab gives teachers the opportunities that lead to improvements in the knowledge, skills, practices, and dispositions of early childhood professionals. Current professional development workshops include: To Be An Excellent Teacher, Training of Trainers: Classroom-Based Assessment for Preschoolers, Communication for challenging conversations.
In addition to in-person training and professional development, NAECY offers online learning modules.  These modules are created with early childhood educators in mind. The catalog of modules includes a variety of topics, each designed to provide practical tips and strategies you can bring to the classroom. Not only does NAECY offer online modules, they also offer webinars which they state, "builds professional skills and knowledge and explore important topics in the early childhood education field" NAECY, 2018).
Additionally, under the resources tab NAECY offers a link called topics.  This tab gives members the ability to explore key early childhood topics such Developmentally Appropriate Practice, play, anti-bias education, coping with stress and violence, Developmentally Appropriate Practice (DAP), family engagement, guidance and challenging behaviors, literacy, math, and social and emotional development.
I found NAECY's position statement on Developmentally Appropriate Practice very accurate and informative. Developmentally appropriate practice (DAP) is a framework designed to promote young children's optimal learning and development. To make decisions that reflect best practices, educators take into consideration what they know about child development and learning, each child as an individual, and each child's social and cultural context.  NAECY states, "Standards overload is overwhelming to teachers and children alike and can lead to potentially problematic teaching practices. At the preschool and K–3 levels particularly, practices of concern include excessive lecturing to the whole group, fragmented teaching of discrete objectives, and insistence that teachers follow rigid, tightly paced schedules. There is also concern that schools are curtailing valuable experiences such as problem-solving, rich play, collaboration with peers, opportunities for emotional and social development, outdoor/physical activity, and the arts. In the high-pressure classroom, children are less likely to develop a love of learning and a sense of their own competence and ability to make choices, and they miss much of the joy and expansive learning of childhood" (p.5).  I agree with this statement.  As teachers are instructed to follow more standard they feel pressured to limit playtime or present learning in a very teacher-directed approach instead of a child-led curriculum.
According to NAECY (2018) they share a belief that investing in high-quality early childhood education and early childhood educators will make America brighter, stronger, and more competitive. According to NAECY (2018) decades of research show that early investment produces positive outcomes for our children, our families, and the economic future of our country.  "We know that making early childhood education high quality boosts the well-being of children and that making it affordable helps parents get and keep a job. Americans—of all political, geographic, and demographic backgrounds— know this too. They understand how important it is for families to be able to choose high-quality early childhood education that best meets their needs. They recognize early childhood educators as professionals who have complex and demanding jobs and responsibilities. They understand the evidence-based connection between having high-quality educators and having a high-quality education, and they know investing in early childhood education helps our country compete and win in the global environment."
Other insights I learned from the NAECY website was that NAECY really fosters and promotes public policy advocacy.  On their public advocacy page, they talk about how they promote high-quality early childhood education supported by a diverse, dynamic early childhood profession. Along with Americans of all political, geographic, and demographic backgrounds, NAECY is demanding investments in high-quality early childhood education and early childhood educators. They provide early childhood professionals with federal and state agendas and advocate for opportunities that help all children and families succeed.